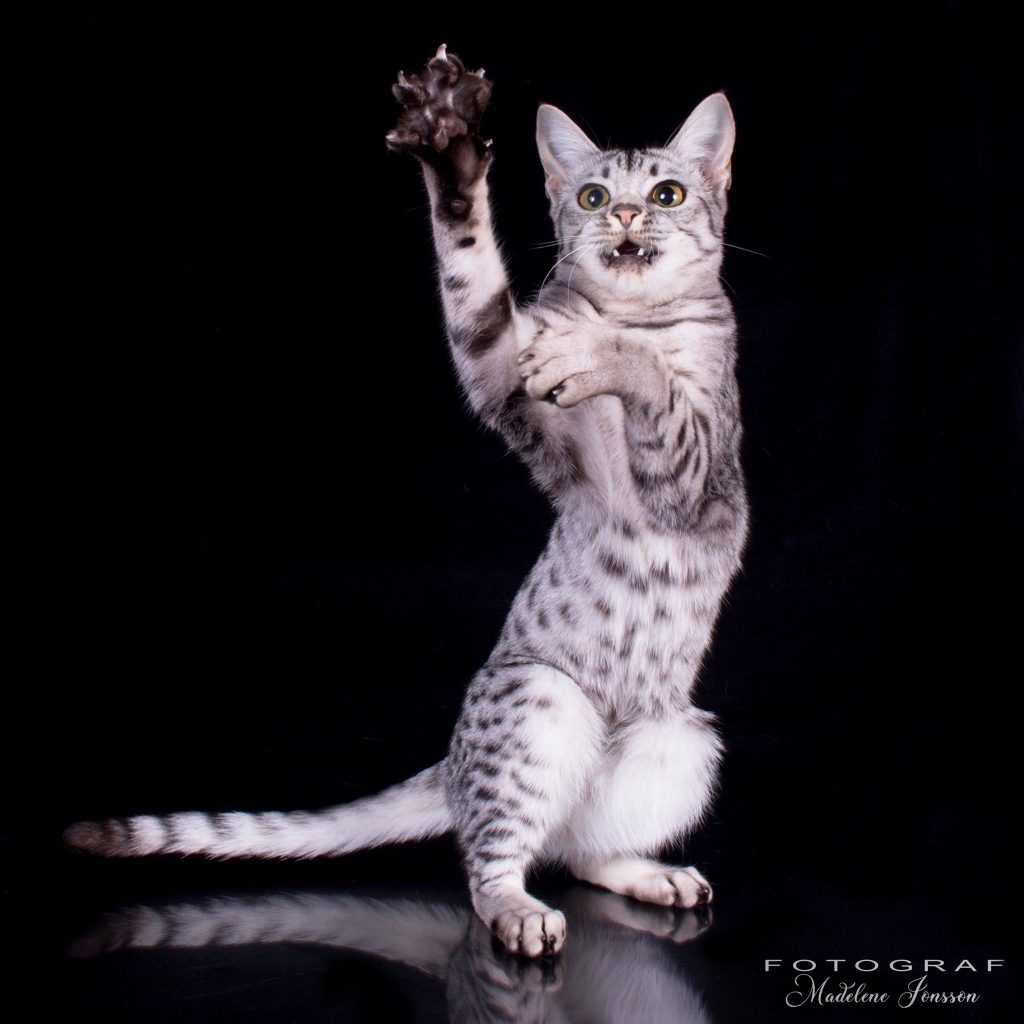 At the moment, there is a huge demand for ocicat kittens. Most breeders have a waiting list. So, how can you get your hands on an ocicat? The best thing to do is to contact a few breeders directly, tell them about what kind of home you are offering for an Ocicat and what you are looking for. See the list of breeders below.
Du kan också fylla i kontaktformuläret till vår kattungeförmedlare så kontaktar hon dig när det dyker upp tillgängliga oci-kattungar.
See also other sites for advertising, for example Facebook-groups for kittens or local media place, like "Blocket" (in Sweden).
Köpa Katt
If you are looking to buy a cat from Sweden, you can visit the site Köpa katt where SERAK breeders publish their pure-breed litters.


Tillgängliga kattungar
Litter born in January 2023
Sire: Baruhlo's Harrison Ford, black silver spotted
Dam: Tenzai Ichiko, chocolate silver spotted
1 cinnamon silver spotted boy
1 cinnamon silver spotted girl
1 chocolate silver spotted girl
1 blue silver spotted girl
Maud van Gageldonk, Made (Netherlands) 
Email
Litter born: 2022-12-21
Dam: S*John-Johns Lissy
Sire: SE*Hormuz Lâvân
1 kitten available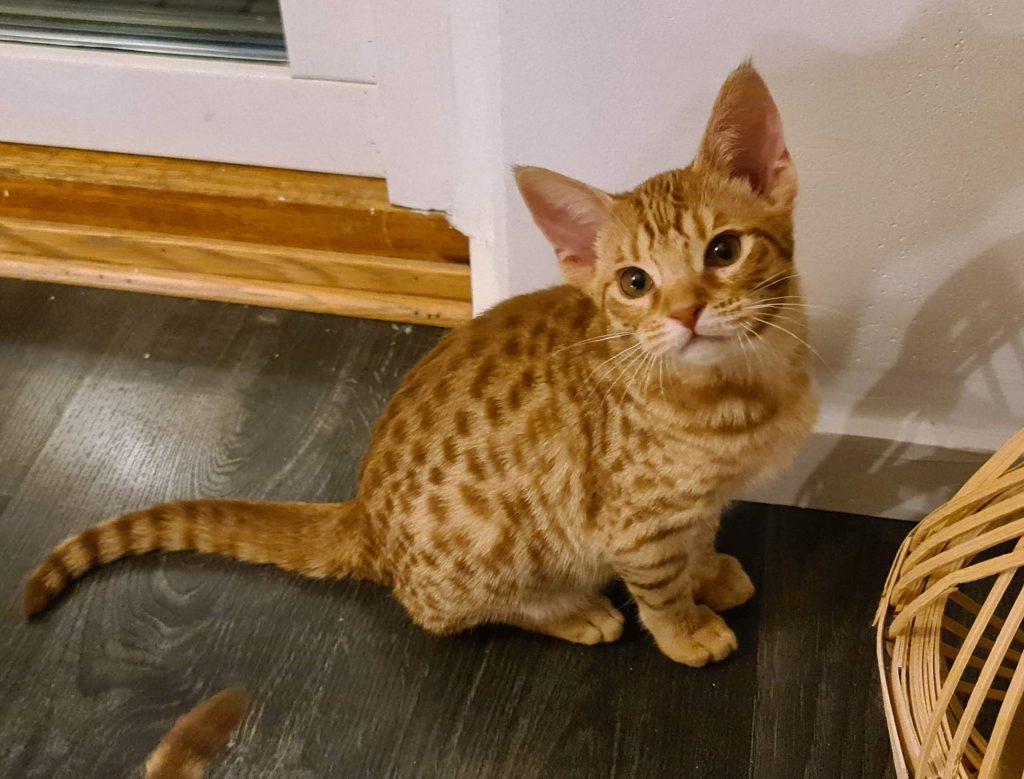 For more information contact Benjamin Jiglund, +46707468542, benjamin.jiglund@gmail.com or visit Instagram or Facebook
We are looking for a fosterhome for a female, SE*Alsmarks Celestial Avatar, born 2023-12-01.
Please contact Alsmarks by either e-mail or through Facebook , we constantly update our Facebook page with new pictures and movie clips.
Jag söker fodervärd till S * John-Johns Lily, 1 kattunge kull 2.5 år är hon.
Och till hennes dotter S*John-Johns Ebru kattunge, där vill jag ha högst 3 kullar.
Eftersom Ocicat inte ska vara ensamkatt och om intresserad inte har någon katt så är det bästa att de får bo tillsammans.
Kontakta Ingrid på e-mail
Kommande kullar
(no plans listed at the moment)
---
Denna lista med kommande kullar genereras av vår kattungeförmedlare. Anslutna uppfödare kan delge kommande kulla genom att kontakta oss..
Anslutna uppfödare
Sverige
SE*Alsmarks
Björn & Cecilia Alsmark, Uppsala
Phone: 018-39 80 60
E-mail
SE*Enbacka gårds
Mikael Bjelkesten, Bollnäs
Phone: 0730-92 01 12
E-mail
SE*Evidarlings
Anna-Karin Olfosson, Mölndal
Phone: 0706-855156
E-mail
SE*Hormuz
Benjamin Jiglund, Uppsala
Phone: 0707-46 85 42
E-mail
S*John-Johns
Ingrid Imkan, Uppsala
Phone: +46 769 207 379
E-mail
SE*Ocilitas
Karin Granath, Bromma
+46 733 641 953
E-mail
SE*Pagngles
Agneta Glennsten, Göteborg
Phone: 031-15 16 04 / 0705-12 77 47
E-mail
SE*Singers
Aleksandra & Victor Singer, Stockholm
E-mail
SE*Vargagården's
Terttu & Martti Lehto, Berghem
Phone: +46 703 84 13 94
E-mail
S*Wagga Wagga's
Camilla Fant, Göteborg
Phone: +46 729 71 08 42
E-mail
Avelshanar
CH S*Wagga Wagga's Tummi Gummi
OCI a 24, blue spotted
Sire: S*Kattkompisarna Persimmon, OCI n 24
Dam: SC S* Wagga Wagga's Princess Aura, OCI n 24
Contact:
Camilla Fant, Göteborg
Phone: +46 729 71 08 42
E-mail

Contact our kitten coordinator: